Public Works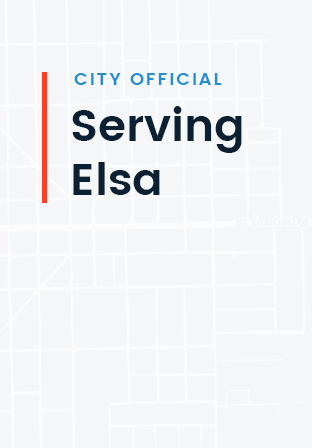 Elberto E. Bravo
Director
The City of Elsa Public Works Department Administration is the major receiving office for all of the departments under Public Works. All calls and requests for service are received through this office and dispatched to the proper department and a work order is issued and tracked for service.
Services:
Street maintenance, pothole repair, litter removal, drainage problems, mowing in right-of-ways, street sign maintenance, barricades, street sweeping, mosquito spraying.
Animal Control, any animal issues are handled by public works.
Parks and Recreation maintains the city parks including the park buildings, swimming pool, baseball and softball fields and all parks equipment maintenance.
Building Maintenance of all city owned buildings.
Vehicle Maintenance of all city owned vehicles and equipment at the Public Works shop.
Water and Sewer Division, water line maintenance such as water line repairs, water tap installations, water utility locates, fire hydrate repairs and installation, water meter repairs and installations.
Sewer main line maintenance, sewer main stoppage, manhole overflowing, sewer odor, sink holes over lines or manholes, sewer utility locates. (Please Note that all sewer taps have to be done by a licensed plumber) Residents are responsible for the service line from their house to the tap including the tap.
Address
102 S. Diana St.
Elsa, TX 78543